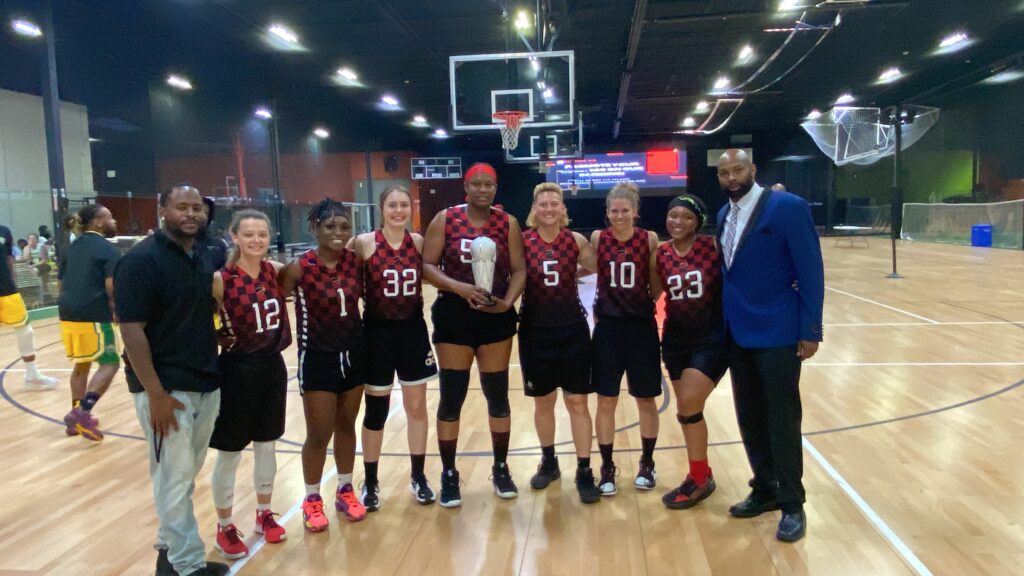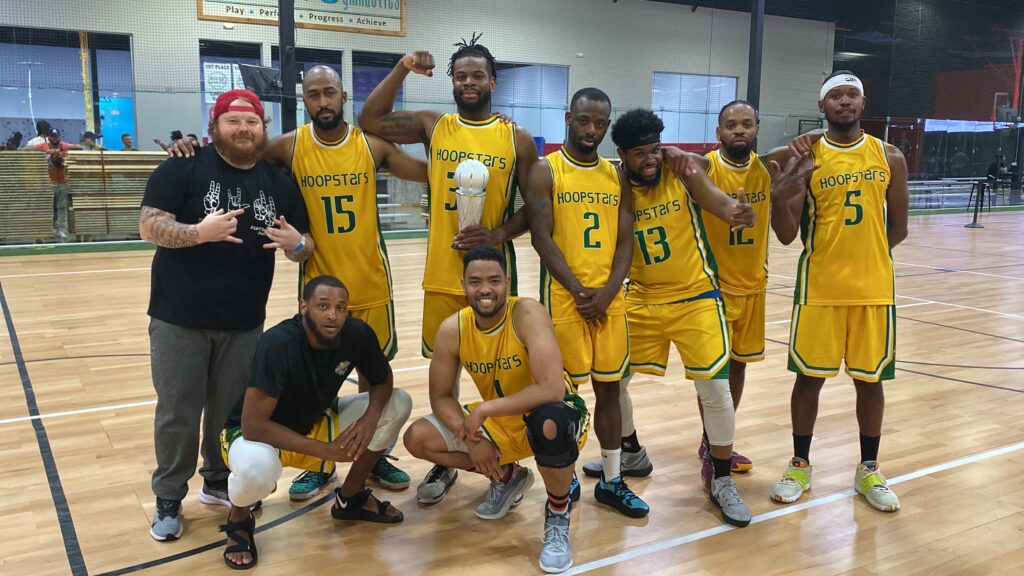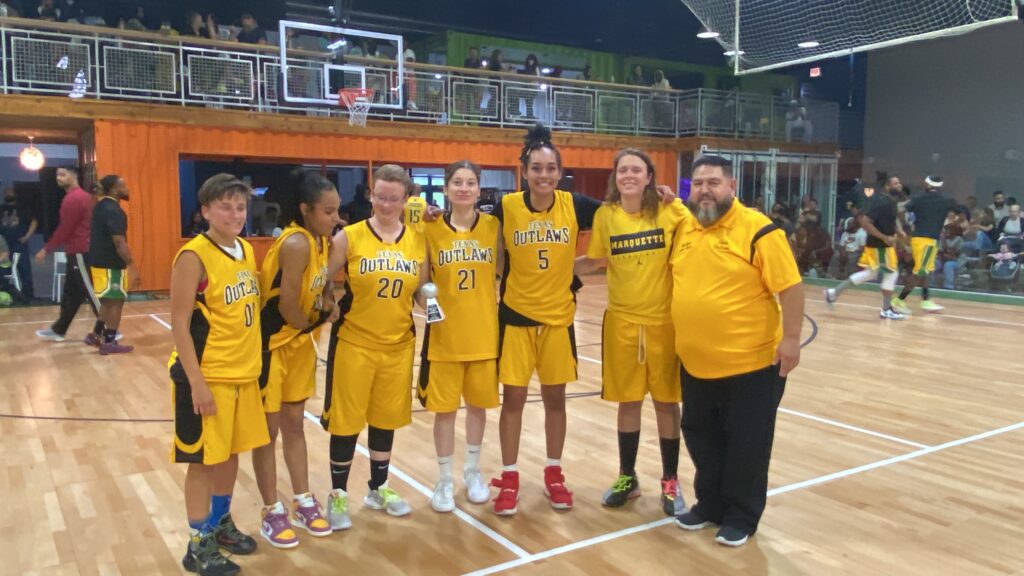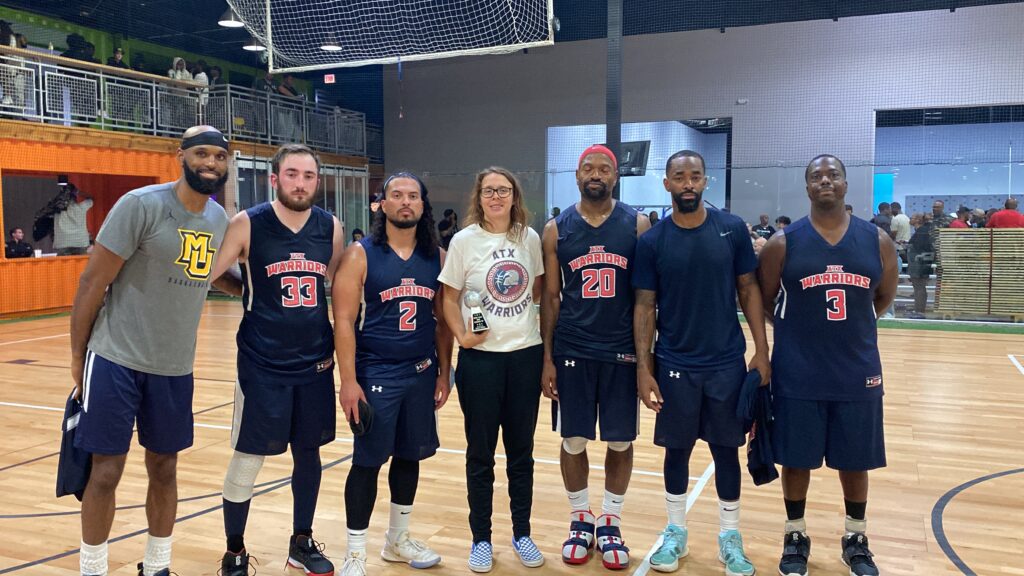 NDBO kicked off 12th Annual Men's and 8th Annual Women's National Basketball Tournament in West Dundee, IL with 10 Women Teams and 27 Men Teams.
Women's Tournament kicked off on Friday with 8th seeded Tampa Sol facing off 9th seed Omaha and 7th seed Vice City facing 10th seeded Lady Dolphins. Tampa Sol handled Omaha with a 53-15, while Vice City defeated Lady Dolphins 53-19. 4th seeded WSAD Warriors faced 5th seeded Lady Marlins in a completive matchup and Warriors escaped with a 48-38 victory to move into Final Four, meanwhile 3rd seeded Atlanta Shooting Stars forfeited the game against 6th seeded Omaha Eagles to give Eagles the berth to Final Four. 1st seeded and defeating Champion Texas Outlaws handled 8th seed Tampa Sol 57-27 to move to Final Four, 2nd seed newcomer Indianapolis Checkers defeated 7th seed Vice City 70-30 to move into Final Four.

Consolation Champion went off with #5 Lady Marlins falling to #8 Tampa Sol 44-23 to capture Consolation Champion and a free entry to 2023 NDBO National Tournament.

The Final Four game set off with #1 Texas Outlaws competing with #4 WSAD Warriors and outlasted the Warriors with a 48-38 victory to give them 2nd straight National Champion appearance, meanwhile #2 Indianapolis Checkers defeated #6 Omaha Eagles 65-26 to give them first National Champion appearance.

The 3rd place game completed with #6 Omaha Eagles defeating #4 WSAD Warriors in a heated battle with score of 28-24 to capture NDBO 3rd Place.

Women's National Champion game kicked off with #1 Texas Outlaws facing #2 Indianapolis Checkers, the game started off a heated battle until the 2nd quarter Checkers figured the Outlaws and handled them with fashionable win 94-56 victory to give them a First NDBO Women's National Champion.
Men's Tournament kicked off with 27 teams fighting for the National Champion, First round games started off with 16 seeded Fanwood FAA losing to 17 seeded Chicago Hustlers 51-79, 15th seeded WSAD Rumble facing off 18th seeded KC Knights due to not enough players on court in time, they forfeit the game to Rumble. 9th seeded DFW Infinity defeated 24th seed NY Skullz 67-31, 10th seeded Madison defeated 23rd seed Houston Ballaz 61-28, 8th seeded Florida Spartans got upset by 25th seeded SICD Magic 58-50, 7th seeded DC Elite Hoyas fell to 26th seeded No Limit Ballerz 66-76, 13th seeded Southern Copperheads defeated 20th seeded Crooklyn Code 42-26, 14th seeded Empire City fell to 19th seeded Florida Storm 50-72, 12th seeded Omaha fell to 21st seeded Chicago CCD 27-52, 11th seeded District City 95ers handled 22nd seeded Georgia Bulldogs 76-55, 6th seeded Wisconsin Wolves got upset by 27th seeded Panthers with a 66-65 edge.

Second Round continued with top 5 Seeded bye teams, then a biggest upset of #17 Chicago Hustlers defeated #1 CBUS City Monsters 72-61, #2 SE Hoopstars defeated #15 WSAD Warriors 76-32 rout, #3 HTX Eagles defeated #19 Florida Storm 59-24, #4 ATX Warriors smothered #13 Southern Copperheads 84-23, #21 Chicago CCD fell to #5 FSAD Bombers 34-59.

Elite Eight kicked off with #17 Chicago Hustlers defeating #25 SICD Magic 60-53, #2 SE Hoopstars manhandled #10 Madison 70-26, #4 ATX Warriors went battle with #5 FSAD Bombers and won a edge of 68-59 victory, #3 HTX Eagles got upset by #11 District City 95ers by 60-64 sending off all 4 teams to Final Four.

5th Place game completed with #25 SICD Magic beating #10 Madison 22-20 and #5 FSAD Bombers escaped from #3 HTX Eagles with 37-36 edge and went on to defeat SICD Magic 43-40 for the 5th Place finish.

Consolation Champion game went out with a bang with #1 CBUS City Monsters squeaked a 54-48 victory over #8 Florida Spartans to capture Consolation Champion and a free entry to 2023 NDBO.

Final Four game kicked off with #17 Chicago Hustlers vs #4 ATX Warriors and #2 SE Hoopstars vs #11 District City 95ers, Warriors stormed off with a 44-29 first half lead, Hustlers never gave up and chased Warriors to lose to ATX Warriors by 84-76. Hoopstars and 95ers has a history of matchups in 2022, the game was a heated battle between both teams and Hoopstars with a 95ers 32-23 edge and Hoopstars fought back to win 66-62. SE Hoopstars gets a 3rd NDBO National Champion game berth while ATX Warriors gets 2nd straight National Champion Game in hopes to defend their Title.

3rd Place game completed with District City 95ers handled #17 Chicago Hustlers 59-35

Men's National Champion game started off with Hoopstars handling Warriors the entire game with a 60-40 victory giving SE Hoopstars 2nd NDBO National Champion since 2017.
Women's Final Standings

Champion- Indianapolis Checkers
Runner-up Texas Outlaws
3rd Omaha Eagles
4th WSAD Warriors
Consolation Champion Tampa Sol
Men's Final Standings

Champion SE Hoopstars
Runner-up ATX Warriors
3rd District City 95ers
4th Chicago Hustlers
5th FSAD Bombers
6th SICD Magic
7th HTX Eagles
8th Madison
Consolation Champion CBUS City Monsters
Women's Awards

First Team All-Stars
Tonisha Green – Indianapolis Checkers
Jakkish Smith – Texas Outlaws
Shaquana McDonoguh – Tampa Sol
Zamica Cage – Indianapolis Checkers
Chelesa James – Vice City

Second Team All-Stars
Milna Cuffy – Omaha
Katie Vetter Tampa Sol
Dafina Rexhepi Texas Outlaws
Amanda Leccese – Indianapolis Checkers
Jamine Smith Lady Marlins

Most Valuable Player
Tonisha Green Indianapolis Checkers

Coach of Tournament
Tony Wilkerson Sr – Indianapolis Checkers

Most Outstanding Player
Jakkish Smith – Texas Outlaws

Individual Sportsmanship
Milna Cuffy – Omaha

Team Sportsmanship
Omaha



Men's Awards

First Team All-Stars
Robbie Simms – Empire City
Michael Morris – Chicago Hustlers
Joshua Wilson – Chicago Hustlers
Ty Hubbard – ATX Warriors
Trevone Woods – No Limit Ballerz

Second Team All-Stars
Cordano Whitehead – No Limit Ballerz
Chris Hyde – HTX Eagles
Schumuel Lewis – Florida Spartans
Matt Maxey – SE Hoopstars
Elbert Houston – ATX Warriors

Most Valuable Player
Stuart Jones – SE Hoopstars

Coach of Tournament
Ursa Rewolinski – ATX Warriors

Most Outstanding Player
Michael Morris – Chicago Hustlers

Individual Sportsmanship
Tristan Cook – CBUS City Monsters

Team Sportsmanship
Crooklyn Code
The tournament went smooth and successful so NDBO boards want to say thanks to coaches and players for making the games more exciting to watch.

For the fans, thanks for coming and supporting your favorite team. For timers and scorekeepers, thanks for giving up your time and do your job. For referees, thanks for doing your job as referees. You all did an amazing job.

And the last one, NDBO boards want to say thanks to Chicagoland Deaf Seniors volunteers for their hard work. Even though they are not in spotlight, they are the backbone of the event. Please know that we could not do this without your hard work. We are forever thankful for the time you have given us.

You have made an unforgettable difference. Congratulations to Indianapolis Checkers team for winning 2022 NDBO Women Champions and SE Hoopstars team for winning 2022 NDBO Men champions. Again thanks to everyone who came to Chicago and made the tournament unforgettable. Travel safe and see you next year.
Source: NDBO Board